Dinosaurs are undoubtedly one of the most extraordinary creatures to have ever walked the earth. They inspire awe in children and adults alike, with their massive size, ferocious teeth and claws, and the mysterious world they inhabited. Not only were they fascinating creatures, but they make great dinosaur gifts as well. 
If you're looking for a dinosaur-related gift for your loved one, we have 25 of the best options listed below. From toddlers to teens to adults, we guarantee that any of these dinosaur gifts will give them a rawring good time. 
This site uses affiliate links, and we may earn a small commission when you use the links and make a purchase at no extra cost to you. Thank you for supporting our website.
25 Rawring Best Dinosaur Gifts
Dinosaurs were such fantastical animals, it's difficult to keep in mind that they were even real at one point. Their whimsical and hyperbolized features make them great gift items for any kid, and we've listed several options for your convenience. 
However, as you age, it gets harder to find dinosaur-related gifts for your teens and even adult loved ones, but don't worry. We've got you covered there as well. Our list is inclusive of nearly all ages, starting from toddlers and ending with full-grown adults. We've even added a category of unique gifts to fill the gaps. 
Dinosaur Gifts for Toddlers
A genuine love for these prehistoric animals often starts at a young age, and there are few starting points younger than a toddler. If you find your tiny tot can't help but smile and giggle at the sight of a colorful dino, it's a sign they need a quality dinosaur gift or two, and here's what we recommend. 
Another great gift option for your toddler's room is this personalized dinosaur pillow. The cute, smiling dinosaurs are calming and friendly for your little one, and the pillow is the perfect size for their crib. Alternatively, you can use it as an aesthetic decoration for their room, perhaps sitting on the rocking chair.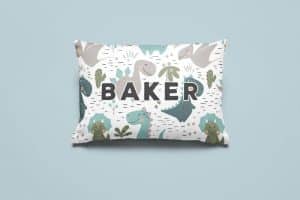 Dinosaur Gifts for 5-Year Old's
As your dinosaur enthusiast gets a little older, they're bound to want more interactive dinosaur gifts than when they were younger. To satiate their desires for a fun and playful toy, we've selected the best options for a dinosaur gift they'll want to use every day. 
We know a few adults that would love to go back to making tents and forts from blankets and pillows. Thankfully, you can do your 5-year-old one better by gifting them this kid's tent decorated with dinosaurs in a prehistoric environment and complete with their very own roar button.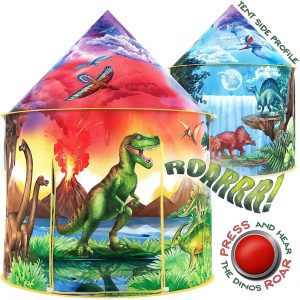 A passion for dinosaurs isn't limited to one gender. Girls certainly love dinosaurs too, and a great way they can demonstrate this is by accessorizing with these dinosaur bow hair clips.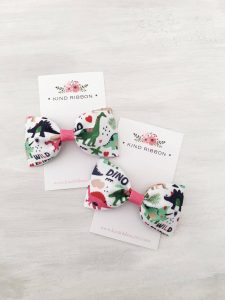 If you're looking for a gift option that's a bit more functional for your 5-year-old loved one, then consider getting them these light-up dinosaur rain boots. They're 100% waterproof with non-slip tread for a safe and efficient shoe, but they'll love the fact that the heels light up with every step. 
There's probably no gift in the world more practical than a toothbrush, but that doesn't mean you can't find a way to make it fun for your 5-year-old. Eliminate the persuasive toothbrushing speech by gifting your youngster this dinosaur electric toothbrush set they'll want to use over and over. In addition to the toothbrush, this set includes:
A dino-themed brush cover

A rinse cup

A replacement brush head

2-minute sand timer

A stand
Dinosaur Gifts for Young Kids and Preteens
Dinosaurs tend to get a little less cute and a little more ferocious and powerful as you enter the ages of 6-12. Show your younger kids that you know dinosaurs mean business when you gift them one of our top picks listed below. 
Take their love for dinosaurs to school with these highly detailed dinosaur pens. Options include a  Parasaurolophus, a T-Rex in yellow or green, or a Triceratops. You might want to buy all four, as this will likely be their favorite pen that they'll use exclusively till the ink is extinct.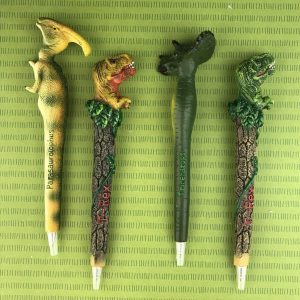 It's no surprise a handful of dinosaur lovers can trace the origins of their prehistoric passion to one of the many Jurassic Park films. Now, your kid can feel like they're in the movie with this Jurassic Park-themed and customizable name sign.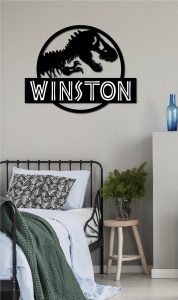 Dinosaur Gifts for Teens and Adults
This is where you enter dangerous territory when it comes to dinosaur gifts, as most teens and adults don't want something fit for a seven-year-old. However, this eliminates a significant number of gift options. Luckily, we've found a decent number of potential gifts well-suited for teens and adults alike.
A T-Rex has never been sleeker and more stylish than on this sterling silver ring. The genius design is a simple but unique touch to any outfit's aesthetic.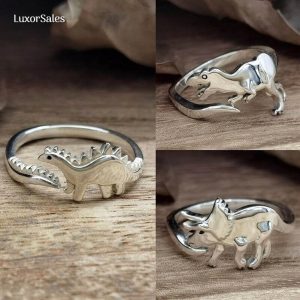 Every chef worth their metal needs a quality apron, and this one allows them to show off their passion for dinosaurs while flaunting their culinary skills. Apart from the immeasurably convenient pocket, the best feature of this apron is actually that all the dinosaur skeletons glow in the dark.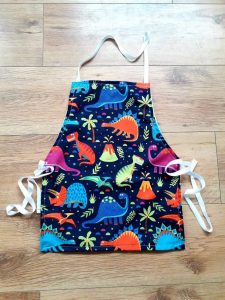 This dinosaur skeleton scarf is a fashion statement that any dino lover would be dying to show off. It is made from a soft and elegant pashmina available in various color options for a more personalized gift.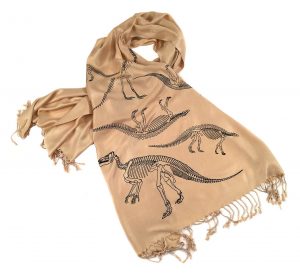 When all else fails, we guarantee you can find an exceptional dinosaur gift option here on our list of the most unique dinosaur items on the market. 
Succulents have become the most significant gardening trend since putting water in a can. Now, your millennial can grow the most amazing cacti and other plants in this adorable ceramic Stegosaurus planter.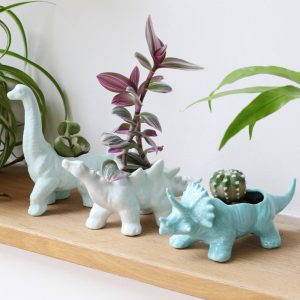 If the gnome-eating dinosaur statue didn't make enough of an impression outside your home, this T-Rex wall mount would certainly do the trick inside. Hung in taxidermy fashion, this T-Rex head is a great aesthetic piece, convo-starter, or simply good for a laugh.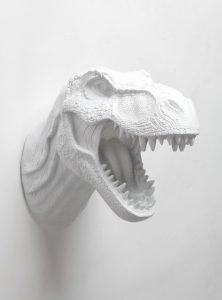 Final Thoughts on Finding the Perfect Gift Dinosaur Lover
From the ice age to Jurassic period, there are dinosaur gifts and dinosaur toys for all ages from kids ages 1-5 or even teenagers and adults.
The true dinosaur fans have favorite dinosaurs and might really appreciate dinosaur action figures for their imaginative play whether they love playing with real fossils or tyrannosaurus rex, they will love any of these gifts.