Soccer is one of the most popular sports in the world, so it's no surprise how many soccer fans are out there. If you know someone who enjoys playing or watching soccer, then you can show your support for their passion and love for them as a person through one of our amazing soccer gifts that are sure to score! When it comes time to buy gifts for soccer fans, we have over 30 options that are sure to please any fan, even the young soccer fan.
Whether it's for an anniversary, birthday, Christmas, or any other special occasion – these soccer gifts provide hours of entertainment and fun.
If you're looking for a fun gift, a thoughtful gift, a unique soccer gift, these great gift ideas are sure to give you tons of ideas on selecting the perfect gift.
This site uses affiliate links, and we may earn a small commission when you use the links and make a purchase at no extra cost to you. Thank you for supporting our website.
30 Absolute Best Gifts for Soccer Fans
Soccer fans are a unique group of people that have a special love for the game. They live and breathe it; they watch every match, can talk about it for hours on end, and always need to know what's going on in the soccer world. As a result, they can be notoriously tough to shop for. But don't worry, we've got you covered. 
We've compiled the best gifts out there for the soccer fan in your life. The gifts are split into several categories to ensure there is a little something for everyone. Young, old, athlete, or spectator, we've got a gift for all types of soccer lovers. 
Soccer fans are a very passionate bunch. They bleed their team's colors, and they wear them on the outside, too. Help your die-hard soccer fan show the world their passion for this universal sport with one of these soccer gift ideas. 
If your soccer lover doesn't have a favorite team, help them still commemorate the occasion of game day with this T-shirt.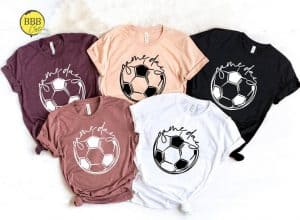 These club flags are perfect for the soccer lover devoted to beloved teams like Chelsea, Manchester United, and FC Barcelona. They are a fantastic piece of artsy décor to match their other team memorabilia.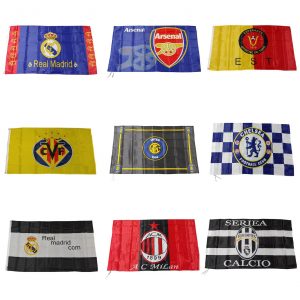 We all know that soccer fan that loves the sport so much it's practically a science for them. This soccer field diagram is a great piece of décor that also reflects their strategic soccer mindset.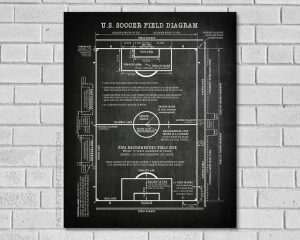 Your soccer fan might never play on a professional team that wins the World Cup trophy, but that doesn't mean they can't have one of their own. This replica would look fantastic in any soccer lover's man cave, office space, or adorning a home shelf.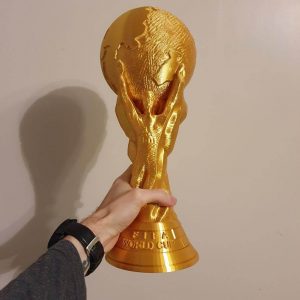 A fun, simple gift for your young female soccer lover. You can personalize this jewelry dish with your fan's first initial, and it'll hold her favorite trinkets, jewelry, sporty hair ties, and more.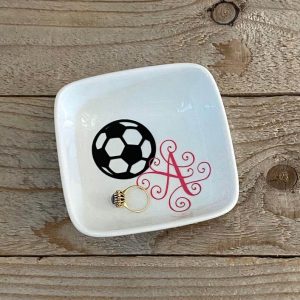 Most die-hard fans have some sort of official soccer jerseys, either on display or that they don when their team hits the field. However, few have one of these sleek and stylish tracksuits that will make your favorite Culés will feel like a member of the team.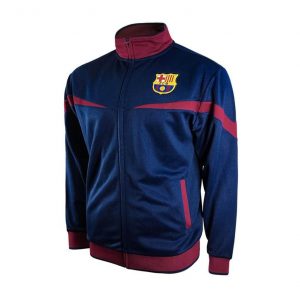 As one of the most popular sports in the world, there's no doubt you know a soccer player or two. The best gifts for soccer players are ones that will improve their game and make them feel like they're playing the game at its highest level. Of course, you can also find some fun, personalized gifts that demonstrate their love and drive for the sport. 
Every player loves a warm, fluffy blanket when they're in the stands watching their favorite team or on the sidelines waiting to be subbed in. Of course, you want your gifts to be personal, which is why this blanket is perfect because you can decorate it with your soccer player's name and favorite colors.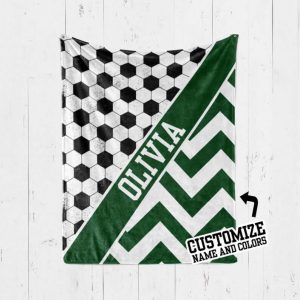 Coaches are arguably the most influential individuals in any soccer player's career. These caring men and women dedicate their time and resources to helping their players grow and thrive in this sport. Show your coach how much you appreciate their advice and support with one of these soccer-oriented gifts. 
Most coaches receive gifts when the season is over, and the team members will sadly go their separate ways. Make sure your coach remembers all the good times you had together with this coach's sign decorated with each player's unique signature.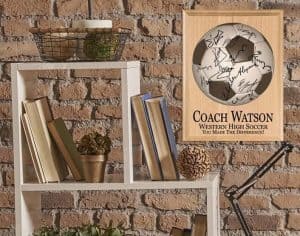 If you know your coach has plenty of wall art in their home or office, this wooden "soccer" sign is a great alternative. Each player can sign their name, and the piece will perfectly adorn any desk or shelf in your coach's home or office space.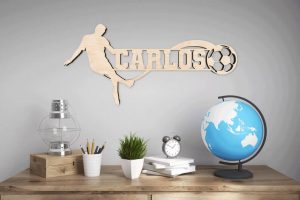 It's no surprise that every soccer coach loves the sport. So, help them bring a little bit of their passion to work or any dress attire with this sleek soccer ball tie. 
Show your coach how influential they are as a person and sport's figure with this inspirational décor sign. It's the perfect, simple gift for that coach in your life that doesn't rely on team members.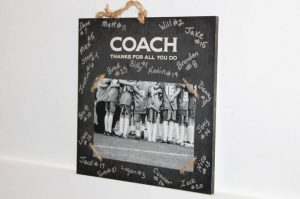 Ah, the whistle. One of the telltale signs of a coach. If your favorite soccer coach needs a serious whistle upgrade or you just want them to start sparing their voice during practice, this personalized whistle would make a great gift.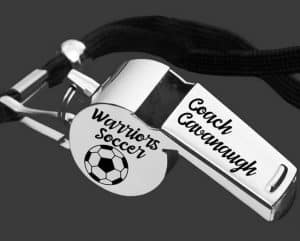 UNIQUE SOCCER LOVERS GIFT IDEAS
Everyone wants their gift to stand out and make a lasting impression long after the wrapping paper has been ripped off. We guarantee that no soccer-loving fan in your life has a soccer-related gift quite like these. 
Final Thoughts On Gifts Those who Play Soccer or Simply Love their Soccer Ball
Soccer is a sport that has been around for thousands of years. It's no surprise, then, that there are so many soccer-themed gifts on the market today! Whether you're shopping for the soccer mom, the soccer star or the soccer enthusiast, we hope you were able to find an incredible soccer gift.