A lot is riding on Valentine's Day, as it's a time to celebrate the love, commitment, and intense bond between significant others. As if things weren't complicated enough, you're shopping for him, which is never easy on any given day. If you're struggling for the perfect personalized Valentine's Day gifts for him we've just the list for you. 
We've carefully selected 30 of the best personalized Valentine's Day gifts for him, so you have something specific to him and his tastes that also convey what this relationship means to you. 
This site uses affiliate links, and we may earn a small commission when you use the links and make a purchase at no extra cost to you. Thank you for supporting our website.
Our Top Personalized Valentines Day Gifts for Him
Best Personalized Valentine's Gifts For Him
There are so many gift possibilities when it comes to Valentine's Day. You can get him a personalized gift that's loving and shows your affections. It could be something useful that he keeps handy daily, or it could just be something fun the two of you can share. 
Of course, this particular holiday isn't just about words; it's also an excellent opportunity for some physical affection, if you know what we mean. Therefore, to make the gift-choosing process easier, we've split all of our options into these common categories so you can easily choose a gift that reflects your holiday intentions. For those of you who are uncertain of what kind of gift you want to get him, check out our category of unique personalized gifts for something he's never seen before. 
Loving Personalized Valentine's Day Gift for Him
It would be a crime not to start our gift options with the most common category of Valentine's Day presents. 
More often than not, couples will give each other loving gifts on this holiday to represent how they truly feel, since it is one of the rare occasions that it is absolutely acceptable, if not expected, to do so.
If you're a little hesitant, shy, or unsure of the perfect loving personalized gift to give your sweetheart on this special day, here are our top recommendations for him. 
If you're sick of the typical framed photo gift, but you still want to incorporate meaningful pictures of you two, then this wooden photo cube is a unique alternative. The cube works almost like a puzzle, as you can morph its shape to reveal 11 different love-filled photos of your choosing. 
Lights are often great aesthetic pieces, and this personalized light for him will fill the room with a loving ambiance when he sees your "I Love You (his name)" message glowing on the wall. 
If you're looking for his gift to include a little bit of this and that, consider giving him this care package. It comes with a love coupon booklet you can fill with your own redeemable options, a ceramic mug, and a couple of tasty treats. You can personalize it further with add-ons that suit his tastes, like the "Strong & Handsome" soap or "You're Tea-Rific" tea blend. 
Placing heart locks on bridges is a cherished tradition for couples around the world. While it's not great for the environment, you can still enjoy the sentiment of this engraved heart lock with a key; we just recommend clipping it somewhere around the house instead. 
Sometimes there's nothing more touching than a song you feel accurately represents you and your relationship with him. A great way to capture and memorialize this song is to have it played by the tinkling sounds of a music box with a personalized engravement on the lid.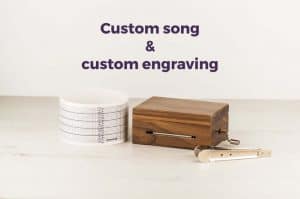 This charming but simple keepsake box is filled with ten wooden hearts you can have individually engraved with the top 10 reasons why you love him. The gift option is easy; finding only ten reasons is the hard part. 
Useful Personalized Valentine's Day Gifts for Him
Gift recipients will never be disappointed with receiving something functional that can be used daily or for special circumstances they look forward to. For Valentine's Day, don't just give him something he can use, but rather, gift him one of these options below that has a personalized flair just for the occasion. 
With more and more nifty gadgets hitting the market that all need to be charged daily, the bedside table can get quickly cramped with devices and chords. This personalized docking station is excellent for holding all his latest and greatest electronics along with other knick-knacks like his keys, wallet, change, and more. 
For the guitarist in your life, you can give him a little memento of your relationship with this fully functional guitar pick engraved with your message. It comes with a matching leather case where he'll probably keep it safe and sound rather than risk its safety on the strings. 
Many men love a cold alcoholic beverage. It's not true in all cases, but if this is the case with your man, then we highly recommend this cedar chest cooler stand. Personalize it with his or your family's name and watch him love it to pieces at every house party, game night, and barbecue. 
If your man is constantly building or tinkering with things around the house, this hammer multi-tool will become his new best friend, as it has all the essentials in one place. But be sure to remind him from whence it came with your personalized message on the handle. 
Every chef needs a place to put his most precious recipes or those passed down from generations before him. Although they probably all live in his head, this wooden recipe book will give him a little incentive to finally record them in black and white, perhaps for future generations. 
Whether your man is in high school, college, or left the academic world behind long ago, backpacks are fantastic accessories you can use in a wide range of scenarios. This military musette bag is an exceptionally durable, rustic, and comfortable choice for him and all his travel needs. 
Fun Personalized Valentine's Day Gift for Him
Valentine's Day is ultimately a holiday, and there is always an element of fun to these rare and special occasions. If you're searching for a particularly humorous, adventurous, or just light-hearted gift to give him, here are some great choices. 
We all have that one fantasy couple we like to idolize or compare to our own relationship. With this framed superhero couple, you can choose the canon or shipped pair that most represents your relationship for a fun wall art piece.  
Few things are more fun than video games, which is why this personalized gaming light is perfect for him. It will undoubtedly be the missing piece to his gaming setup at home.
Another fun alternative to the framed photo gift is this personalized USA photo map. If you and your man are frequent travelers around the nation, you can choose your favorite photo from each state to fill in the entire map. 
You can't go wrong with gifting him some high-quality Bluetooth speakers, but you can make sure this one is unique to him with his name or a monogram engraved on the top. 
Any couple that loves to party needs their own personalized shot board. End of story. This gift is a great time for both of you, as it intimately holds two standard shot glasses on a durable wood plank personalized with whatever name, phrase, or date you please. 
If you're the type of couple that likes to party, but maybe not as hard as those with the shot board, we recommend this uniquely personalized corn hole game. You'll receive both boards, and you can stylize them using the various design options available to suit his tastes. 
Sexy Personalized Valentine's Day Gifts for Him
Let's face it; everything in this category is really a present to both of you. Valentine's Day is a time for passion. So, those of you looking for a gift that's on the sexier side will quickly find you've come to the right place. 
This gift is as fun for you as it is hot on him. It might not be the Valentine's Day gift he was expecting, but it certainly gets the message across crystal clear. 
We hope you don't have little ones around, as this gift option certainly isn't PG. But it's a nice, discreet way of him conveying precisely what he wants when he wants it. You can even personalize the candle's lid with your own message to him, so be creative. 
There's no doubt that things can get a little routine in the bedroom, especially if you've been with your man for a while. This bag of naughty tokens will help you spice things up and keep your activities new and exciting. While you can't personalize the token tasks, you can engrave whatever you want on the front of the tokens instead. 
If you want something similar to the naughty tokens but with more control over what's on each piece, we suggest going for this sexy date night box. The box itself is unassuming and discreet and comes with several scrolls of paper you can fill with whatever you want. You can go the naughty route, the night-out route, or a mixture of all sorts of options. 
We're not sure if this is the type of gift you'll be displaying on your living room bookshelf, but if you do, more power to you. It's certainly a fun and unique visual representation of you for your man's entertainment. 
The exciting thing about these bracelets is that the message is written on the inside, so only the two of you know what pet names and labels you give each other that most couples might not use. There's a wide range of color options, and you can engrave them with whatever word or phrase you want. 
Unique Personalized Valentine's Day Gifts for Him
If none of the aforementioned categories speak to you, or you really want that gift to give him on Valentine's Day that's sure to surprise, we guarantee these options are like nothing he's ever seen before or ever expected to own. 
The outdoorsy fellow will be blown away by this gorgeous customizable fire pit built with exceptional craftsmanship. It's a fantastic gift for those who enjoy camping and bonfires. 
Now he can personalize anything as his own, from steaks to wood and more with this personalized branding iron.
This little gem holds the secret of your most memorable image when you peer through it in the light. It's a fun twist on the locket idea, as it looks like any ordinary necklace before you inspect it further. 
The great thing about this engraved cast iron skillet is that it can also double for another occasion, as iron is the traditional material for a couple's 6th anniversary. So, if this is year six, this is definitely the ideal gift. Be mindful that although this is an actual skillet, it is for decoration only. 
The artistry and design of this customized couple's lamp are superb. The retro, industrial table lamp has heaps of character on its own, but its charisma goes up to a whole new charming level when you see the two of you engraved clearly on the lightbulb cover. 
Kintsugi is a beautiful Japanese art where cracks in pottery are mended with gold to represent the idea that flaws and imperfections make you more beautiful and human and should therefore be embraced. 
This Kintsugi kit is a touching activity or ceremony the two of you can do together to demonstrate you adapting and embracing these ideals within your own relationship. Each resulting piece of artwork is totally unique and personalized by you two filling the cracks. 
Final Thoughts on the Perfect Valentine's Gift for Boyfriend
We hope you were able to find the perfect valentines gift items for your special date. For a special gift or a unique gift, you might also want to consider a personalized watch to gift him this upcoming valentine's day.