Birthdays come around once a year and are undoubtedly special occasions when you get to celebrate your loved one's life. But what should you get someone who has lived for 70 years? With plenty of life left to live, this article will help you find the best gifts for their 70th birthday they're sure to use for many years to come. 
These 30 gifts are perfect for any individual who enjoys living life fully and has a sense of humor about getting older. Of course, every one of them is chosen to demonstrate your affection for them on this extraordinary day. 
This site uses affiliate links, and we may earn a small commission when you use the links and make a purchase at no extra cost to you. Thank you for supporting our website.
30 Wise Best Gifts for 70th Birthday
With nearly a lifetime of birthdays behind them, it can be challenging to find that loved one a unique, heartfelt, or useful present for their 70th birthday that they don't already have. Fortunately, we have a wide selection of options just for you. 
Below you will find 30 of the best gift ideas for someone's 70th birthday. Our gifts are split into convenient categories so you can find that perfect present faster and easier than ever. 
Useful 70th Birthday Gift Ideas
There's no doubt that some things get tougher as you age. Simple tasks become a chore that can really wear on your loved one daily. At 70, they need a gift that will make their day-to-day routines a little easier and more enjoyable. So, we've chosen our top picks for the most useful and convenient gifts to do just that. 
Let's face it. Even in our youth, holding a cellphone or tablet at eye level all the time gets tiring. Now you can eliminate this chore by gifting your 70-year-old loved one this adjustable electronics stand. It's excellent for holding devices when they're watching shows, reading a recipe, or video chatting with family and friends.

Fun 70 Year Old Gift Ideas
You're never too old to have a little fun! These gift options for your loved one's 70th birthday focus on either adding a bit of humor to their life or giving them a fun experience or showpiece for their home to commemorate the occasion. 
This poster is a fun piece of wall art that gives them a glimpse into the past and what was going on in the world at their birth year. Interesting categories include radio and television, what things cost then, and most important events.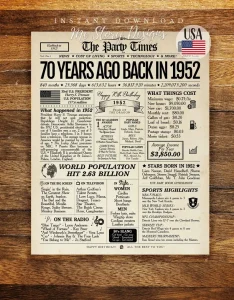 Candles are great gifts for relaxation and aesthetics. But this candle is especially fantastic because it provides a daily dose of inspiration by reminding your 70-year-old loved one that they've "still got it!"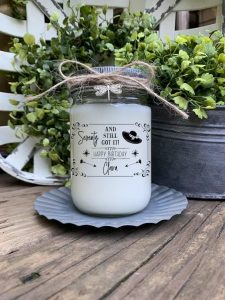 Classy 70th Birthday Gifts
If your 70-year-old loved one has a taste for the finer things, consider gifting them one of these exceptionally classy options for their birthday. 
Seven rings are a common jewelry design for someone's 70th birthday to represent seven decades of life. This necklace beautifully melds the seven rings into one circle to represent the pieces that come together and create one life. Dangling in the middle is their birthstone for an added personal touch.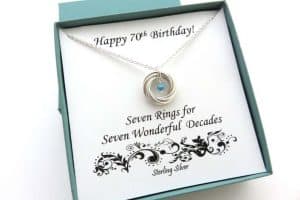 If you want a jewelry gift a little more specific to the occasion, this 70th birthday charm bracelet is a great option. You can personalize it with their first initial and birthstone, joined by celebratory charms like a birthday cake and a glass of wine.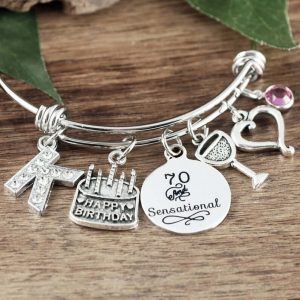 They'll feel like the most elegant heir or heiress when they adorn their home with these sophisticatedly monogrammed hand towels.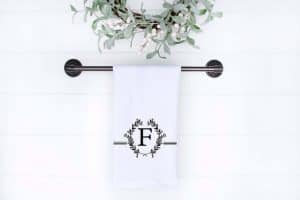 Heartfelt Gifts for 70 Year Old
Gifts are one of the easiest ways to convey how much you love someone through a physical object they can enjoy for years. These mementos listed here will be a constant reminder of how much they mean to you.
Help them make sure no birthday within the family is forgotten or uncelebrated with this personalized family birthday board. Below each month, they can hang hand-written labels of each person and their birth date. Great for an aesthetic wall piece and organization.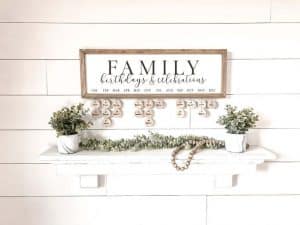 Puzzles are a common hobby, but you can make this one much more special by making the complete image of a particular photo of you and your loved one or a memorable moment in your lives.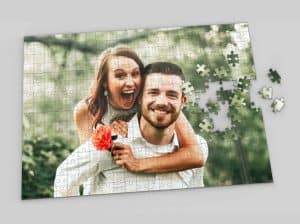 If your 70-year-old loved one has kids or grandkids, consider gifting them this personalized pillow to decorate their home couch. It'll depict their name or family title, like Nana, and list their kids' or grandkids' names below.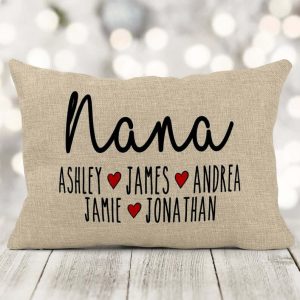 70th Birthday Party Gifts
There's no better way to celebrate a birthday than with a party. In a way, it's the best gift of all. But, a party needs decorations. Any number of these party gifts would make an exceptional contribution to the celebratory atmosphere everyone's going for on this rare and memorable occasion. 
These sparkly, golden centerpieces would look fantastic placed within a flower vase, bowl, or even desserts like cupcakes. They're a great way to give every table an extra festive flair.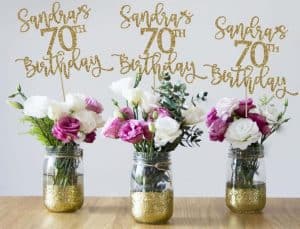 Final Thoughts on Getting The Perfect Gift and Most Thoughtful Gift For Their 70th Birthday
It can be a challenge to find a unique gift for family members celebrating a milestone birthday who don't need anything. From a personalized gift to a fun idea to add to a gift box, we hope you were able to find great ideas for the birthday girl or the birthday boy. Don't forget to add a personal message – which is a great opportunity to go down memory lane.