More and more people are taking up knitting as a hobby. When you're looking for ideas for the perfect gifts for knitters, you want to make sure you can find something special for your friend or family member. Whatever you choose should speak to the style of the knitter, whether the gift is for a December holiday, a birthday, or any other special occasion. 
You'll be able to find a great gift in this gift guide, even for the advanced knitters. From a knitting pattern, to knitting supplies, we've got the perfect gift for the experienced knitter.
This site uses affiliate links, and we may earn a small commission when you use the links and make a purchase at no extra cost to you. Thank you for supporting our website.
29 Perfect Gifts for Knitters
People of all ages and backgrounds now enjoy this hobby of knitting. If you're at a loss as to what to get the knitter in your life, whether it's your sister or daughter in law or your college girlfriend who loves knitting, consider our picks for the perfect knitting gifts.
Knitting Books

Knitting Bags

Small Tools

Organizational Ideas

And More!
Unique Knitting Books Can Make Excellent Knitting Gifts
Even the most seasoned and creative knitters run out of ideas eventually, and often need to seek out inspiration somewhere new. If you've heard complaints about a lack of motivation or inspiration, try gifting a knitter a new technique book with some modern ideas they might not have thought of! 

There are countless options available online, but here are some of our favorite technique and pattern books for knitters.
More Modern Top-Down Knitting is a wonderful book that features a numerous gorgeous, wearable knitting designs. You'll find patterns and instructions for:
Sweaters

Dresses

Capes

Skirts

Hats

Pants

Shorts
Customers rave about this book, with Deborah Newton, one fellow knitting book author, calling the designs "wearable and intriguing, with delightful pattern stitches and simple, yet couture-like touches."
If you know someone who loves to knit their own clothes or make clothes for others, this book could be perfect! 

This darling book includes instructions on how to create twelve different knitted dolls, along with stylish clothes and accessories for them! It features easy-to-follow diagrams and instructions. It is available in either Kindle E-book or paperback format. 
My Knitted Doll is perfect for all kinds of knitters:
Those who love to make their own dolls

People who like to make plushies

Anyone who has kids or grandkids!
Debbie Bliss is one of the most well-known knitters, with 30+ books published and her very own knitting magazine! The Knitter's Book of Knowledge takes all her wisdom and knowledge and packs it into one big book, the perfect gift for any knitter looking to learn more or take their creations to the next level!
Whether you're shopping for a beginner or a knitter with decades of experience, this is one of the best gift ideas for knitters you'll find!

Knitting Bags: The Perfect Gift for Knitters
Every knitter needs a knitting bag to keep their yarn, tools, and patterns organized. If you've noticed your friends' or family member's knitting bag looking a little tattered lately, or noticed that they're keeping their yarn and tools carelessly strewn across the living room floor, consider gifting them a new and improved knitting bag!
This gorgeous, handcrafted bag is available in six different patterns to tailor to your loved one's style. The patent pending design allows you to easily carry it around your wrist, making it perfect for traveling! 
With multiple inner pockets included, it can hold:
Yarn balls

Unfinished projects

Crochet hooks

Knitting needles up to 11"

And any other tools you need!
This beautiful, durable, yet affordable canvas bag makes an amazing gift for knitters.

The Couch Arm Knitting Caddy from Uncommon Goods is perfect for people who like to knit while watching tv or socializing with friends and family in their home! It fits over the arm of your couch and features designated pockets for both yarn and needles.
If you know someone who could use it, check out this cotton canvas knitting caddy!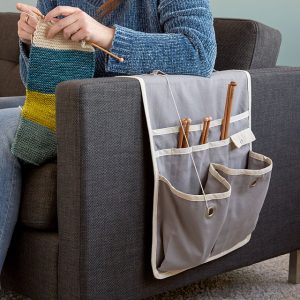 Uncommon Goods' Travel Knitting Bag is perfect for the environmentally-conscious knitter! Made from organic cotton and recycled plastic, it features an over-the-arm carry design and folds down for easy crafting on-the-go! 
It can hold 2-3 balls of yarn, your knitting needle, and any small tools you need in a small exterior pocket.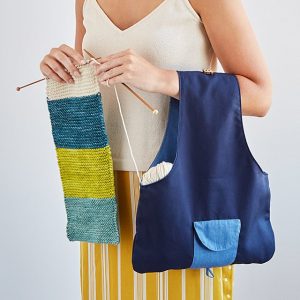 Small Knitting Tools That Make the Perfect Stocking Stuffers
Looking for gift ideas for knitters that'll fill their stockings to the brim? Consider getting them some small tools that just make life easier! These are some of our favorite small but useful stocking stuffers.
The size markers on knitting needles tend to wear off over months and months of continuous use, and a needle gauge can be incredibly helpful at removing the guesswork and frustration of trying to guess the size! 
HiyaHiya makes an adorable, sheep-shaped gauge with US and Metric sizing ranging from 6-0 through 19 (US) and 0.7 to 15 mm (Metric).

This beautifully made knitting and crochet ring is the perfect way to get a unique gift for the knitter in your life and support a small business at the same time! It's available in four different materials, including:
Pure hammered copper

Silver plated copper

Silver plated brass

Sterling silver
These rings let yarn slip in and out of the hook easily, keep your yarn in place, and reduce the amount of yarn burns and blisters on your hands and fingers! 
Do you know someone who just can't keep track of their stitches? This mini pendant-style stitch counter is a perfect gift idea for the forgetful knitter. 
It's very simple to use. The user just presses the button on top after each stitch to count it, and they'll never lose track of where they're at ever again!

Organizational Gift Ideas for Knitters
Even with a great knitting caddy, some people just have a hard time staying organized! If you have a messy knitter in your life, you might want to help them find ways to keep their workspace just a bit neater. Here are some useful, cute, and organizational gift ideas for knitters.
This extra-large yarn bowl from Eunoia is beautifully handcrafted with glossed, durable Indian rosewood. It even includes a carrying bag for easy use while traveling! 
It can hold a ball of yarn up to 8" in diameter and includes gorgeous swirl hooks to feed your yarn through and two holes that hold knitting needle set when not in use.
These long, hanging needle holders can hold needs up to 17/12 mm, and even include a zippered pouch for small tools! They come in three different colors:
Aqua

Gun metal gray

Mustard
You can find these and support a women-owned business when you shop at Yarn Yay!
These adorable glass vases from Creative with Clay look like they're wearing knitted sweaters and are perfect for holding your knitting needle of all sizes! They come in either a large or small size with the following dimensions:
Large: 10" x 5" x 3"

Small: 8.5" x 4" x 3"
And are available in your choice of color: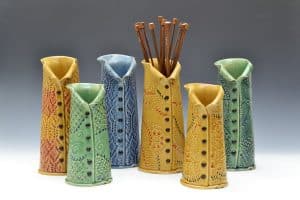 Help Your Friends & Family Step Up Their Knitting Game!
Do you need help finding unique gifts for knitters who seem to have it all? Try any of these products to help serious knitters take their creative game to the next level!
If you know someone who has made a business selling their knitted creations, Label Weavers offers these personalized labels in a set of:
50 labels

100 labels

250 labels

500 labels

Or 1000 labels
These labels are professionally printed in the USA, and are 100% customizable with your choice of text and logo. 

If you don't know just what to get for your loved one who loves knitting, why not try the gift that keeps on giving? Yarn Yay! offers several different subscription plans, with monthly boxes full of hand-picked items for knitters. You can learn more and view all available options at Yarn Yay!
People who knit frequently tend to have some issues with soreness in their hands, fingers, and wrists. If you know someone who knits on a daily basis, you might want to get them some compression gloves! 
They provide mild compression to your hands, which support pressure points to alleviate tension. They even come in a fingertip-less design so you can still knit comfortably while wearing them!

We Are Knitters offers a variety of knitting kits for knitters of all different levels. Their blanket knitting kits are very unique gift ideas for knitters, and include everything you need for the project:
Pima cotton yarn in each color needed

Knitting needles

A pattern

A knitter's sewing needle

An embroidered label
If you know your loved one has fallen into a creative slump, these kits just might be the perfect gift idea! You can see all available options at We Are Knitters.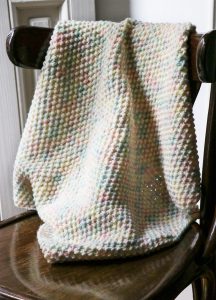 What's more fun than yarn that glows in the dark?! This set of two 120 yard rolls makes an amazing gift for knitters who are growing bored of the same old colors and patterns. 
Make an entire glow in the dark scarf, or just incorporate a small amount of the glowing fabric into the overall design for a bit of extra fun! Knitters young and old will enjoy something a little more exciting than the typical yarn. 
Miscellaneous Gift for Knitters
If you're still at a loss for unique gift ideas for knitters, here are a few miscellaneous ideas that still make great choices!
Knitted creations can be a pain to clean. They typically cannot be put into standard washing machines and dryers, and you need to make sure to use a gentle soap that won't damage the materials while hand washing!
The solution? Wool and cashmere shampoo! This cedar-scented detergent is made with biodegradable ingredients specifically to clean knitted fabrics with no dry cleaning required!

The best gifts for knitters don't have to actually be for knitting! These made-to-order mugs from Creative with Clay are perfect for sipping tea or coffee while still letting people know you're a knitter at heart! 
They're available in: 
And can hold 16 oz of any drink! Keep in mind they do take 4 – 6 weeks for delivery, so plan accordingly.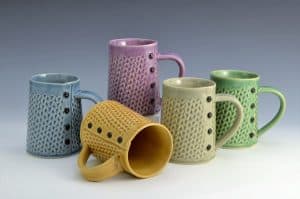 Some people like to lay in bed at night reading, while others like to knit! If you know someone who loves to knit at night, whether lying in bed, sitting on the porch, or watching a movie, they'd probably love a hands-free LED light! 
This one wraps around your neck and features a light on either end, giving you the perfect level and angle of light for knitting.

When you're looking for the perfect Christmas gifts for knitters, sometimes the simplest things can mean the most! This darling Christmas tree ornament is perfect for any knitter in your life during the holiday season. It comes in a variety of yarn colors, including:
Bubble gum

Fiery fall

Turquoise/teal

Plum

Red

Pine tree

Slate

Pearl

Blue
The Best Gifts for The Knitter In Your Life
Knitting is a very misunderstood hobby. Most people associate it with the dreaded scratchy scarves and sweaters their grandma tried to give them as kids, but modern knitting is so much more than that! 
The knitters in your life may be seniors or young, come from a variety of backgrounds, and might like to knit:
Clothes

Dolls

Accessories

Home decor

Or anything else possible!
When it comes to knitting, the possibilities are truly endless. If you're at a loss as to what to get the knitter in your life, you can't go wrong with any of these amazing choices.