There are many different gifts available for people who are into horseback riding or owning horses. These gifts for horse lovers are great for the holidays, for housewarming, or even just as an "I love you" present to the special horse lover in your life. 
Below you'll find a list of some of the best gifts available that are horse-themed. These great gifts are sure to please even the pickiest rider you know!  
This site uses affiliate links, and we may earn a small commission when you use the links and make a purchase at no extra cost to you. Thank you for supporting our website.
22 Best Gifts for Horse Lovers
The type of gifts that are best for the horse rider in your life will depend on the occasion that you're buying the gift for. Some of the gifts on this list are better if you're looking for home decor, while others are geared more towards apparel or practical gifts for the stable. No matter what kind of gift you're looking for, you're sure to find something to like here. 
Everybody loves apparel! These ideas with make your horse-loving friends happy. 
Everybody always needs an extra pair of socks no matter what time of year it is. Getting your horse rider a few pairs of socks with horses on them will help cheer them up by reminding them of their favorite hobby no matter where they are and can also help them designate socks to be worn specifically at the stable. 

Stable Gifts for Horse Lovers
Grooming tools can be expensive for a rider to purchase all on their own. Gifting them some new grooming tools as part of a groomer's kit can be a welcome relief from the financial burden of owning or caring for a horse.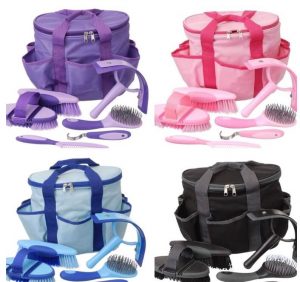 For a more crafty gift for horse lovers, try buying them a new feed pail. You can gift-wrap the pail with cellophane and bows like a gift basket after filling it with all kinds of treats for the stable such as carrots, apples, and sugar cubes.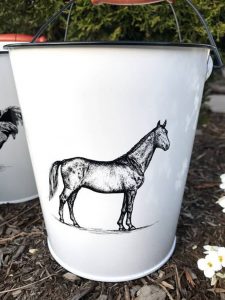 Along with the expense of grooming gear, another major expense that horse lovers have to take on is the cost of their riding gear. Equestrian gear like a new riding helmet can be a great gift if you know a horse lover well enough to know what they still have left to buy for their riding hobby in the gear department. 
Horseback riding during the warmer months of the year can be thirsty work. It's nice to have a horse-themed water bottle so that your horse lover can stay hydrated while they're out in the ring under the blaring summer sun. A few splashes from a water bottle are a good way for riders to cool off, too. 
Holiday Gifts for Horse Lovers
Holiday gifts are important. Tailoring them to horses could be just the personalized touch you need to make your loved ones smile. 
Horseback riding can be cold during the winter, and it's especially hard to get up on freezing winter mornings to do chores like grooming and mucking stalls. These electric hand warmers will help keep your horse lover's hands toasty and make a wonderful small gift for anyone who has to spend frigid mornings or nights tending a stable. 

To add a horse-themed touch to the Christmas tree, try gifting this horse Christmas ornament. It's a way for the horse lover in your life to show off their favorite hobby even during the holidays. You can also get a different horse ornament each year so that they can build up a collection over time. 

Home Decor Gifts for Horse Lovers
Home is where the heart is. Home décor gifts for horse lovers could remind them of their passion for horses even in their laziest moments. 
A lucky horseshoe is a perfect housewarming gift for a horse lover since these metal pieces are thought to bring good luck if they're hung indoors. Be sure to instruct the gift recipient to hang the horseshoe with the crescent facing upward to "hold the luck in". 
A horse table lamp is a stylish lighting option for the bedroom of any horse lover. These unique gifts are practical but still manage to add a touch of whimsy to any indoor space, but they're an especially good choice for any area that needs a good night light. 

A horse calendar is a less expensive gift for the home, but that doesn't mean it won't be appreciated. Horse riders often need to keep up with many different activities such as stable hours, scheduled lessons, and other things related to their hobby. 
Birthday Gifts for Horse Lovers
There are a lot of occasions to buy gifts for. Regardless, these birthday gifts for horse lovers will have them jumping for joy. 
People who ride horses usually also enjoy art that involves horses and horseback riding. A small tabletop horse sculpture is a unique piece of indoor decor that adds interest and sophistication to your horse lover's home.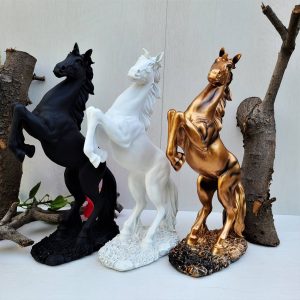 A horse sign is a great gift idea for horse riders because there are so many different types of signs available. Whether your horse rider is more into rustic Western decor, they want a functional sign for the barn, or they want a more modern indoor sign for decoration, there's a horse sign keepsake for everyone. 

Coloring books aren't just for kids anymore. Thanks to a range of new high-quality coloring books aimed at adults, anyone can take advantage of this calming hobby now. Check out some horse-themed coloring books for a quick and inexpensive gift that is sure to impress a horse lover no matter their age. 

Final Thoughts on Horse-Themed Gift Ideas
The great thing about getting the perfect gift for horse lovers is that there are so many horse gifts you can tailor the gift to your rider's personality easily. Whether you have horse owners in the family or you want to buy a delightful gift for someone a little more fanciful, something on the list above is bound to suit most horse lovers.
From horse jewelry to horse shoe-related personalized gifts, horses game, or riding boots, the horse person in your life who just loves horses will be extremely happy bu the thoughtful gift.