Is your friend or family member obsessed with the 19th-century steam movement? Do they have a desire for discovery and adventure? If so, steampunk gifts may be the perfect present for them!
Whether you need a gift for their birthday, Christmas, or just because, we have the perfect gift for your steampunk-loving friend. Read on to find out the best steampunk gifts to give for any occasion. 
This site uses affiliate links, and we may earn a small commission when you use the links and make a purchase at no extra cost to you. Thank you for supporting our website.
25 Neat Gift Ideas For The Steampunk Fans
To help make your decision on what to get easier, we have broken down our 25 gifts into different categories. From practical gifts they can use to gifts for their home, we have you covered. 
Best Steampunk Gifts for Men
Are you looking for the perfect steampunk gift for him? Whether it be for your anniversary or any other occasion, he is sure to love any one of these perfect gifts. 
With hand-sewn pages aged with coffee, this steampunk journal is a durable and wonderful gift for him. The intricate design is sure to make him smile, along with the charmed tab that will guarantee he never loses his page when recording his thoughts or sketches.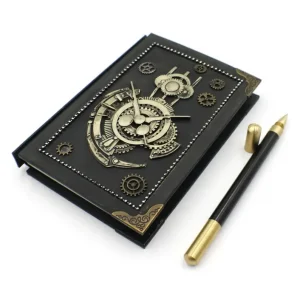 Perfect for his man cave or wherever he keeps his drink, this handmade alcohol dispenser is an excellent gift for adult beverage lovers. All he has to do is place the bottle into the pipe and turn the handle to have it pour out when he wants it! Spouts come in three different styles:
Brass chrome

Brass

Brass old style
This bar art fits most 1-liter screw caps and wine bottles, making it suitable for most alcohol drinkers.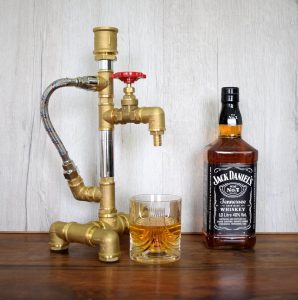 Top Steampunk Gifts for Her
Does she have a love for steampunk but, you are not sure what to get her? No problem, these gifts encompass a range of styles and tastes to guarantee an option she will love. 
These beautiful, handmade gloves are perfect for everyday wear or cosplay. Intricately designed with golden lace, she is sure to get lots of compliments wearing these out!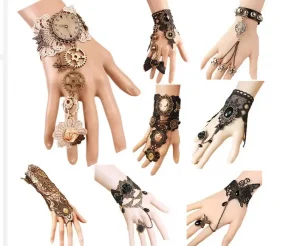 With a stylish shoulder strap, this handmade, brown leather bag features a steampunk-style clock and a plethora of pockets to store anything she wants to carry around. About the size of an iPad, this small purse-like bag is the perfect gift for any steampunk-loving girl. 
As an intricate hat with non-removable goggles, she can wear it to her next cosplay event or even when she goes out! Complete with different gears and chains, this top hat features an old-fashioned clock on the very front of it. If she loves steampunk, she is guaranteed to love this unique hat.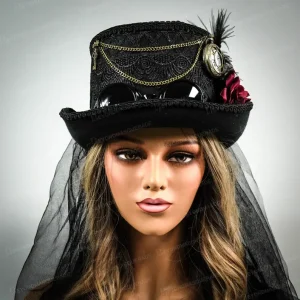 These handmade pins consist of a variety of clockwork materials, including:
Clock hands

Gears

Spinning arrows
Every pin is different, making this gift very unique for her. Consisting of a brass pin finding with copper and silver tones, she can stick these pins just about anywhere!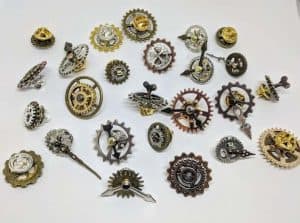 Steampunk Gifts for Their Home
Does your friend/family member have steampunk stuff decorating their home? If so, why not add to their collection with some of these great gift ideas any steampunk fan is sure to love. 
Complete their room with a flowerpot that looks like the roots from the plant within have escaped to the outside. Made to look like metal being held together with rivets, this flowerpot is uniquely decorated by hand.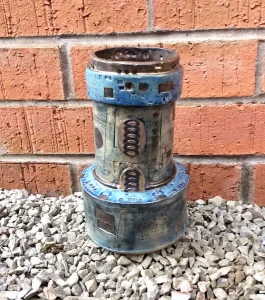 As a simple yet extraordinary gift, this custom fabricated lamp is designed to bring attention to itself. Complete with a complimentary Edison LED Bulb and a solid copper finish, they won't ever want to turn the light off.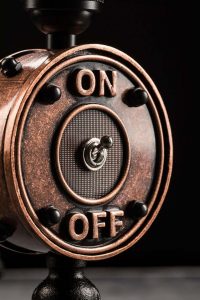 Practical Steampunk Gifts
Are you looking to give some steampunk stuff that can be used all the time? Consider some of these unique steampunk gifts that your friend/family member will be able to use in their daily life! 
If you are looking for the perfect steampunk watch, this is it. Featuring an old railway and skeleton design, this mechanical watch doesn't require batteries. With Arabic numeral engravings and a beautiful glass back, they can use this watch in their everyday lives to feel like they are using steampunk technology. 

These easy-to-snap-on phone cases come in a variety of steampunk-style gear designs. They are made to fit most iPhones and Galaxy's out of a durable material that is sure to last.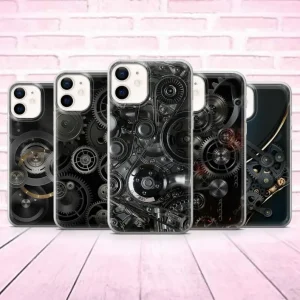 You can choose from a variety of face masks, including:
They are perfect to wear out and about for your steampunk-loving friend.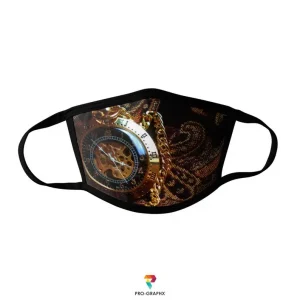 Collectible Steampunk Gifts
Would your friend or family member be more interested in a collectible item instead? If so, consider one of these great gifts. 
Filled with information on everything steampunk, this illustrated guide is the perfect gift for anyone who loves the science fiction world of airships and mad scientists. 

Other Victorian Style Gift Ideas
Final Thoughts on Gift Ideas for Steampunk Lovers
We hope you were able to find the perfect gift for the victorian era fan to add to their punk rock attitude. Steampunk evokes the imaginary and adventurous side of their fans. From the perfect accessory to add to their steampunk costume or steampunk outfit, they will be appreciative of your personal touch in adding to their love of steampunk history.